World ADC San Diego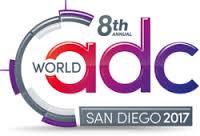 World ADC San Diego is the definitive industry forum for accelerating the development of more therapeutically effective antibody-drug conjugates.
Covering the A-Z of ADCs from early discovery to clinical and manufacturing this conference will give you an incomparable amount of cutting-edge ADC insights, new data and experiences learned from the last 12 months of drug development.
Annually, over 600 drug developers across 190 key organisations connect at the conference to catch up with peers, build new business relationships and further cement partnerships.
In 2016 this leading antibody drug conjugate conference served up 96 talks distilling the latest research and novel data on payloads with different mechanisms of action, validating novel linker technologies; minimizing off target toxicities and establishing robust manufacturing supply chains.
With novel ADCs continually entering the clinic, rapidly diversifying payload, linker and antibody technologies and a surge of preclinical there will be a huge amount of information and updates to share this year!
MabDesign members benefit from a reduction on the registration fees ; contact us for your discount code!
S'inscrire
Date
20-22 september 2017
Lieu
San Diego
Organisateur
Hanson Wade