Biovision 2017
Biovision, the international forum of innovation in health and the life sciences, will unite the global private and public scientific, academic and industrial communities over three days: a unique operational opportunity to accelerate progress in health innovation.
The 12th edition of Biovision will host the global health community in Lyon. Continuing to make waves in the international community and centered on salient strategies and pressing global health issues, Biovision will welcome leading personalities and players in research and innovation, among them public and political decision-makers, business and industry leaders and civil society representatives, to promote exchanges, networking, partnerships and investments.
This edition of Biovision will encourage cooperative work, presenting participants with new dynamic ways of exchanging and interacting and encouraging project development over a variety of different sessions.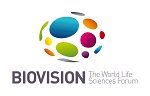 Biovision Prospective: A new Prospective pattern to act and interact
Attend Biovision and take part in the co-working paths on key challenges : « Trust in vaccines», « Digital Health », « Investing in innovation», « Impact of Brexit », « the future of scientific communications» with interactive working sessions.
For more information: www.biovision.org/prospective
Biovision Catalyzer:
A springboard for innovative health projects and start-ups Pitches leading to partnerships, seed funding & innovation watch
For more information: www.biovision.org/catalyzer
Biovision Investor:
The intersection of health start-ups and venture capital Startups' pitches leading to fund raising & innovation watch
For more information: www.biovision.org/investor
S'inscrire
Date
April 4-6, 2017
Lieu
Cité centre des congrès
Lyon
FRANCE
Organisateur
Biovision