12th Annual World ADC London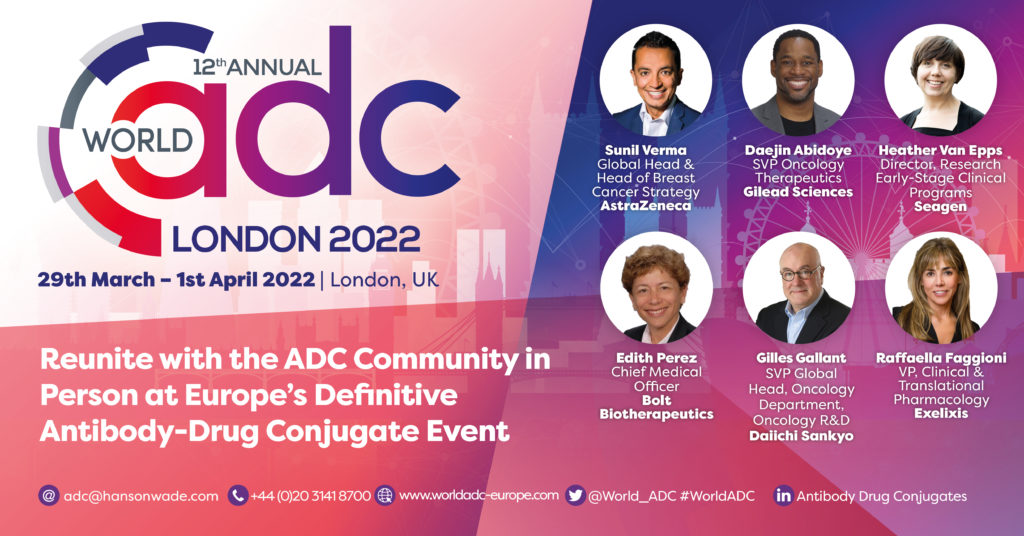 12th Annual World ADC London
29th March – 1st April, 2022
London
The ADC field is going from strength to strength, further catalysed in 2021 by the approvals of Zynlonta and Tivdak respectively, bringing the total number of commercially available ADCs to 11.
Furthermore, recent promising clinical data released from ongoing trials with Ehertu and Polivy suggests that the march of ADCs to become frontline treatments is well and truly underway.
Returning in-person in from 29th March – 1st April, be part of the 12th Annual World ADC London and reconnect with 400+ of your peers at the forefront of ADC drug development.
After in-depth research with key opinion leaders within the ADC field, this is your most extensive programme to-date addressing the most pressing challenges facing ADC developers from discovery through to late phase manufacturing.
The four-streamed, four-day unrivalled programme with 75+ industry-leading speakers will equip you with the insights and connections to nourish your current pipelines of ADCs, discover the next generation of non-traditional ADCs, and confidently define your manufacturing processes.
Take a look at the brand-new agenda here!
With more clinical trials taking place than ever before, new companies entering the clinic and a number of pivotal or Phase III trials currently underway, momentum in this field is spreading rapidly giving this year's discussion even greater importance!
As a member of MabDesign, you can register using your 10% discount with the code 'MAB10' here.
S'inscrire
Date
29th March - 1st April, 2022
Lieu
London - UK
Organisateur
Hanson Wade
Prix
10% discount to MabDesign Members