Francis Carré
Chairman
Francis started, in 1975, as a researcher at the European Society of Propulsion (SNECMA Group), holding a Master of Physical Chemistry. During the next ten years he will occupy several position in production and development of high performance composite materials, of which he will become a specialist. Attracted by other industrial activities, he worked as a consultant for five years before joining Sanofi, where he will develop his career in the Industrial Affairs. His responsibilities included the general direction of production and development of the group's active ingredients activities (Chemistry and biotechnology). Furthermore, he was responsible for the industrialization programs of the Sanofi group in the field of therapeutic antibodies.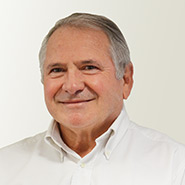 Nicolas Groux
Chief Operating Officer
Nicolas obtained a Master 2 degree in Biotechnology and biochemistry engineering from the Claude Bernard University Lyon 1. He then completed is formation with a specialized MBA in Innovation and Technology Management at the EMLyon Business School. Nicolas has being carrying the MabDesign project since its origin. He is the Chief Operating Officer of MabDesign.
Dominique Pons
Head of Business Development
Dominique has spent most of her career in the biotechnology field, where she was successively responsible for R&D, than strategic and operational marketing, and international business development. Medical doctor, she obtained a MBA in Management of Global Business at the University Paris Dauphine. At MabDesign, Dominique is Head of Business Development.
Richard Pontremoli

Market Study Manager
Richard obtained a Pharmacist degree from Aix-Marseille University. He then completed his formation with a specialized MBA in Innovation and Technology Management at the EMLyon Business School in Lyon. Richard is in charge of market studies at MabDesign.
Geoffrey Richard

Market Study Manager
Geoffrey obtained a PhD in cellular and molecular biology at the Cancer Research Center of Lyon in 2015. He decided to complete his initial background by a formation in marketing and strategy at the Graduate School of Biology – Biochemistry – Biotechnology in Lyon. Before joining the MabDesign team, he worked for Genzyme (a Sanofi company) in the elaboration of a technological business plan.
Gavin Vuddamalay

Business Intelligence & IP Manager

Gavin obtained his PhD in Immunology and Infectious Diseases from the Center for Physiopathology of Toulouse-Purpan (CPTP). Afterwards, he was the manager of the preclinical laboratory for a global CRO before joining the School of Health Sciences at the University of Technology-Mauritius as a lecturer. In parallel to his academic activities, he has also served as consultant for the local regulatory bodies for tertiary education and research. Gavin is in charge of Business Intelligence and IP at MabDesign.
Thomas Vinos-Poyo

Head of Training
Thomas obtained a Master Degree in Biotechnologies and Recombinant Proteins from Université Paul Sabatier Toulouse 3. He worked on research projects in private companies as Nestlé, HM-Clause or Metabolic Explorer, and in academic structures as the Biosciences and Biotechnology Institute of Grenoble (BIG). During his career he was involved in the management of training courses of Université Grenoble Alpes.
Vincent Bir

Marketing and Commercial Training Manager
After a two years Degree in Marketing Techniques realized and validated in Avignon, Vincent has entered in a Bachelor Marketing & Business directly in the third year at the IDRAC Business School campus in Lyon. He decided to perform his bachelor training at the MabDesign association. Following his internship at the Rugby Club Toulonnais as Marketing Assistant, he joins MabDesign as a "Marketing and Commercial Training Manager".
Ana Antunes
Head of Scientific Events & Communication

Ana obtained her PhD in Microbiology from the Lisbon University. She has an international career having worked both in research institutions like Institut Pasteur à Paris, or Instituto de Tecnologia Quimica e Biologica (ITQB, Portugal) as well as pharmaceutical companies as Novartis Vaccines & Diagnostics (Siena, Italy). Through her career, she has been involved in the organization of scientific events such as workshops and dedicated conferences. Ana is Head of Scientific Events & Communication at MabDesign.
Laure Delhon

Events Manager

Laure obtained a PhD in Genetics at Imagine Institute of Necker hospital in Paris. During her PhD years, she was also implicated on the organization and communication of scientific events by being member of Young researchers of Imagine Institute association. Following her two years as a postdoctoral fellow at Institut de Génomique Fonctionnelle of Lyon, she joins MabDesign as Events Manager.
Magnoly Visouthiphong

Communication Manager
After obtaining a two-year University degree in Applied Foreign Languages in English-Chinese at the Jean Moulin Lyon 3 University, Magnoly is now in the third year of a Bachelor's degree in Communication at Sup de Com and joins the MabDesign association as a "Communication Manager" in training. By joining MabDesign, Magnoly has become very interested on the health sector and plans to specialize on this field.
Emilie Fonquernie

Administrative and Accounting Assistant
Emilie obtained a BTS Management assistant while working at a training organization. For 12 years, she worked in the field of vocational training in Montpellier where she developed her professional skills in all the different sections of managing an institution . She continues her career in Lyon in the field of health and specializes in human resources. Today, Emilie uses her versatility as an administrative and accounting assistant at MabDesign.