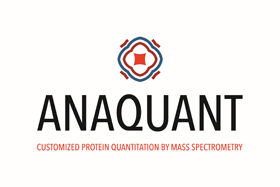 Anaquant
About us
ANAQUANT is a private Contract Research Organization (CRO) specialized in targeted protein quantification by Mass spectrometry for Biologics and Biomarkers analysis.
Know-how
Mass spectrometry, quantification, toxicity, development.
Business offer
Anaquant mission is to bring its partners reliable data which contribute to the selection of their best drug candidates and guarantee a better control of their biologic to limit failure during further clinical phase.
Field of application
antibodies
therapeutic vaccines
biomarkers
Therapeutic application
cardiology
genetic diseases
hematology
infectiology
immunology
oncology
ophtalmology
Expertise
Gene / protein discovery
bioinformatics design
Expression and pathway analysis of target
quantification of target
Assay development in in-vitro & in-vivo models
Research exploratory companion biomarkers
Screening & Identification
Therapeutic libraries
Pharmacology & Biological activity
PK/PD bioavailability
Mode of Action
Therapeutic efficacy
Safety
Immunogenicity
Hypersensitivity & allergies
Immunotoxicology
Specificity
Manufacturability
Production quality
CMC feasibility
Category
Service
Technology Supplier
Contact
Tanguy Fortin
CEO
5 RUE DE LA DOUA 69100 VILLEURBANNE
+3337423570